Do You Need A Tree Or Two Removed?
Being a Parkland Tree Removal Company and providing Tree Removal services in Parkland, Fl is our passion! As a homeowner, there may be a time where you will need to address problems on your property. Whether you live in a suburban or rural area, trees may have to be removed. There are a lot of instances where you will need to find an effective solution for Parkland Tree Removal. No matter what the issue is, if the tree is large, you will have to find a professional to help you. One of the biggest issues is disease and decay. Sometimes, trees experience decay over time. This could be due to a slow disease or insect infestation. They can also suffer from plant-based infestations. The weak tree will then become a safety hazard. It will also be an eyesore, especially if it's featured on your front lawn. It's best to have professionals come in and assess the situation and provide a quote. When your tree contracts a disease that manifests quickly, you may have a serious problem on your hands. Although a single tree in your yard can suffer alone, chances are you will need to cut down and remove the tree so that you can save the other trees in your yard. Tree removal services by Phil's Expert Tree Service, Inc. in Parkland, FL deals with these problems often and can take care of the issues to avoid spreading the disease.
New Construction Can Also Necessitate Tree Removal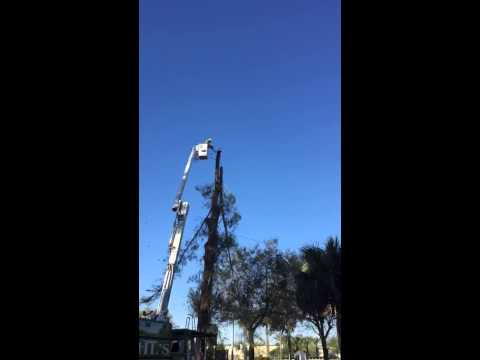 If you're working on a building a new house or adding to the property you currently own, you may need to remove a tree or several in order to fully take advantage of the space you have. Just because it's an empty lot in Parkland doesn't mean you or a general contractor can handle it safely. Phil's Expert Tree Service Inc. can help you make the right decisions in regards to which trees should come down. When looking for a tree removal company, make sure that you're working with a reputable company that will not only take the tree down safely and effectively but also remove stump and the tree from the property. Parkland Tree Removal is a task that may become necessary due to a variety of reasons, including the overall size, foundation issues, or an excessive root system. In addition, it may be required in order to create room for home additions or landscaping. The entire process may sometimes involve obtaining a permit or even hiring a company to do it for you. Those trees with large limbs that hang over roofs or electrical wiring can be dangerous if the limbs ever fall. When this happens, it can cause structural damage or disable wiring to the home. Roots can also interfere with driveway, deck, and sidewalk foundations. They are also able to create issues with piping used for water lines. A growth that is too close to a property divider such as a fence or wall can ultimately damage the integrity of the build. But there is help available! There are few different things to consider. Your tree may be completely removed with only a thin layer of the trunk base and roots left in order to allow it to sprout. It may also be cut to leave a stump to ground into mulch along with the roots. If the entire root system is removed, it will effectively eliminate any possibility of new growth down the road.
What If You Don't Want To Remove The Tree?
If you are looking for ways to prevent the need for Parkland Tree Removal, you should take care not to plant saplings near property lines or in close proximity to roofs, electrical lines, or piping. Some species of tree are more prone to standing up well to harsh weather, while others tend to have limbs that break easier in windy conditions. Take the time to research your options in order to find a type that suits your desires.
In addition, all trees should be properly maintained through regular trimmings, and water treatments. Maintaining a reasonable height is also recommended to avoid overhanging limbs. Be sure to check with your local authorities prior to dealing with your growth issues. Typically, an inspector will be able to best determine whether you will be able to remove the growth, and if a permit will be needed. engaging in the task without going through the proper channels can ultimately result in fines. If you are dead set on moving forward with the process and have obtained clearance through the proper Parkland authorities, be sure to hire Phil's Expert Tree Services Inc. to ensure the job is done correctly and professionally the first time!