When you should you take advantage of our Boca Raton tree removal services?
Being a Boca Raton Tree Removal Company and providing Tree Removal Services Boca Raton, FL is our passion!  At our Boca Raton tree removal services, we know that trees can provide extensive benefits to your home property. As a matter of fact, in most cases, it's best to keep a tree on your property if it is at all possible. On the other hand, living under or near a large tree can also come with many risks.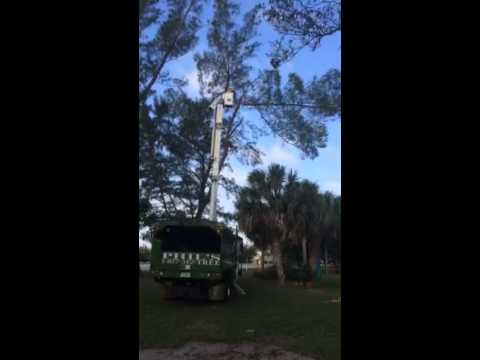 But how can you know when it's time to let a tree in your yard go? Eventually, at some point, all trees become too old and/or unsafe to be kept on your property. When a tree in your yard gets too old or is starting to seem unsafe, it is much better to have a tree removed. This way, you will not risk damaging your home or even worse, endangering your family. In addition to being safe or getting old, if you see something strange happening with your tree that you cannot explain nor understand, do not hesitate to call our staff at Phil's Tree Service. In fact, you should contact a certified arborist immediately so that we can identify the issue that is occurring with your tree. At this point we can let you know what steps should be taken next to handle the situation as safely as possible. Just keep in mind that a dying branch can fall at any moment, not just during a storm. This branch can fall on your house, your car, or injure someone on your property. This is not something that you will want to leave to chance so, leave it to us a Boca Raton Tree Removal Service here in Boca Raton, FL. When you contact our expert staff, we will be able to come out to your home and tell you the best way to solve the problem at hand. We are arborists that are certified from the ISA (International Study of Arboriculture). To learn more about the services that we can offer you, contact us today.
Our Boca Raton tree removal company can help you solve the problem in your yard.
There are ways that you can identify a tree that is at risk of falling down or losing a branch in your yard. The first thing that you will want to do is get to an area where you can see the tree in its entirety. At this point, you will want to examine the tree carefully for any leaning. Obviously, it is important that you know that trees can lean naturally. However, if you are not sure if the tree you are examining has had this certain lean forever or if the lean is something new, you should contact an arborist at Phil's Expert Tree Service Inc. Alarmingly enough, a leaning tree may be a sign that the entire tree is dead or dying and it may soon fall over leaving a path of destruction in its path. The second thing that you will want to do is inspect the ground around the base of the tree in question. A tree's roots can tell you a lot about the health of the tree and if a trees roots are visibly damaged or decaying, this can lead to problems. In reality, poor roots can mean that a tree has lost some or even all of its structural support, which means that this tree may fall at any time. You will want to look closely at the base of the tree where it touches the ground. If you find that there is any space between the tree and the ground, this means that a new lean may have occurred and, again, the tree could be in the process of becoming structurally unsound. We can help you figure out if your tree has become damaged due to insects or another problem. The third part of the tree that you will want to inspect is the trunk.
Cracks or cavities can point toward the fact that the tree is no longer structurally sound. Cavities don't necessarily mean that your tree needs to be removed; they do need to be examined for their extensiveness. We will be able to view the tree bark and narrow down the possible reasons for trunk damage. Lastly, a canopy inspection will need to be performed. However, this task should be handled by a certified arborist. This is due to the fact that a canopy inspection can find the most dangerous and hard-to-spot dead branches on a tree, especially when someone knows what to look for. At this point, our technician will be able to know for sure if your tree needs to be removed or if it is okay for the time being. If you are unsure of hiring a tree removal service, then you should know that we have many references indication our professionalism and skill while we are on the job site. If you would like to read through these references or schedule an appointment with our Boca Raton tree removal company, contact us today!